ABE PROGRAM
The Amgen Biotech Experience (ABE) is an innovative science education program that empowers teachers to bring biotechnology to their classrooms.
ABE provides teacher professional development, curriculum materials, and research-grade equipment and supplies to secondary schools at no cost. The program features a hands-on molecular biology curriculum designed to introduce students to the excitement of scientific discovery. Each year, 90,000 students and 1,500 science teachers participate in this program and have the opportunity to explore the methods scientists use to create biotechnology medicines. The reach of the program has been extraordinary, with nearly 800,000 students to date having experienced the fundamentals of biotechnology across North America, Europe, and Asia Pacific.
Goals for ABE
Teachers: to develop their knowledge, skills and attitudes towards biotechnology, real-world biotechnology applications, careers related to biotechnology, their bioethical views, and their skills of biotechnology laboratory implementations. 
Students: to develop their knowledge, skills, awareness and attitudes towards basic biology, biotechnology, real-world biotechnology applications, careers related to biotechnology, their bioethical views, and their interest in science and biotechnology.
For more information about ABE visit the website. 
The Big Idea of ABE Program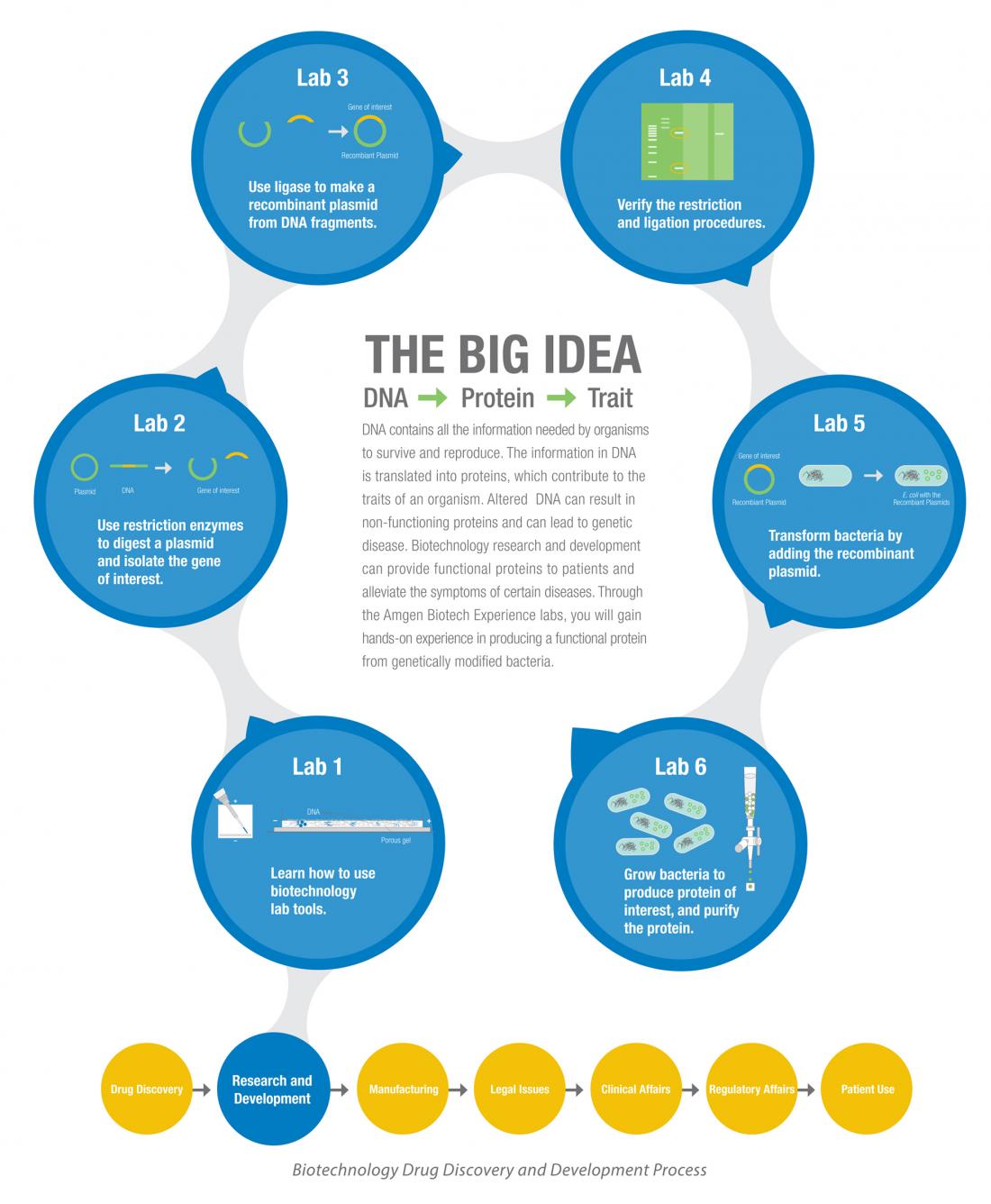 ABE Lab Introductory Video
Funder

The Amgen Foundation seeks to advance excellence in science education to inspire the next generation of innovators, and invest in strengthening communities where Amgen staff members live and work. To date, the Foundation has donated more than $200 million in grants to local, regional and international nonprofit organizations that impact society in inspiring and innovative ways. Amgen Biotech Experience is an international program funded by the Amgen Foundation with direction and technical assistance provided by Education Development Center (EDC).
Collaborators

Within the scope of the ABE Program, Development Workshop have collaborated with the Middle East Technical University (METU), particularly the Department of Biological Sciences and Center for Science, Technology, Engineering, and Mathematics Education (BILTEMM). METU Department of Biological Sciences continually strives to improve the quality of education through innovative teaching methods and attracting outstanding faculty and instructors in this rapidly blooming field. In the Department, special emphasis is given to interdisciplinary research, with the students having the opportunity to also carry out research in biochemistry, biomaterials, molecular microbiology, molecular and cellular biophysics, biotechnology, biomedical engineering, polymer science and technology, cancer biology and computational biology. Through collaborative work of an interdisciplinary community of faculty members, BILTEMM is committed to improving and enhancing opportunities for schools, educators, and students in STEM fields. The aims of BILTEMM include evaluating school curricula, developing new programs, advocating for diversity and access, and influencing relevant policy in education of STEM fields.