Training and Formation Page English
Training
ABE FRANCE supports science teachers by providing training workshops that supply educators with the skills and confidence to transform the science classroom experience for students.
ABE France is led by the Department of Biology at L'Ecole Normale Supérieure. As part of the adaptation and implementation of the ABE programme in France, professors of biology and biotechnology will attend ABE trainings in DNA manipulation and protein purification experiments at the ENS. They will then borrow the materials and reagents to train the students in their high schools.
Every year, 18 new teachers attend a 2-day practical training (mid-July) at the Ecole Normale Superieure. Furthermore, 18 school technicians also attend a 1-day practical training (mid-July) at the Ecole Normale Superieure.
Teachers are recruited by the inspectors of the Ministry of Education.

What is done during the workshop?
Presentation of the ABE curriculum.
Presentation of the equipment.
Presentation of the resources (LabXchange).
Learn how to use the LabXchange platform.
Learn how to implement the ABE programme in their school.
Learn how to teach biotechnology concepts.
Learn how to use the equipment.
Learn how to prepare and use reagents.
What is the programme?
The program includes 7 manipulations to understand and use the biotechnology technique.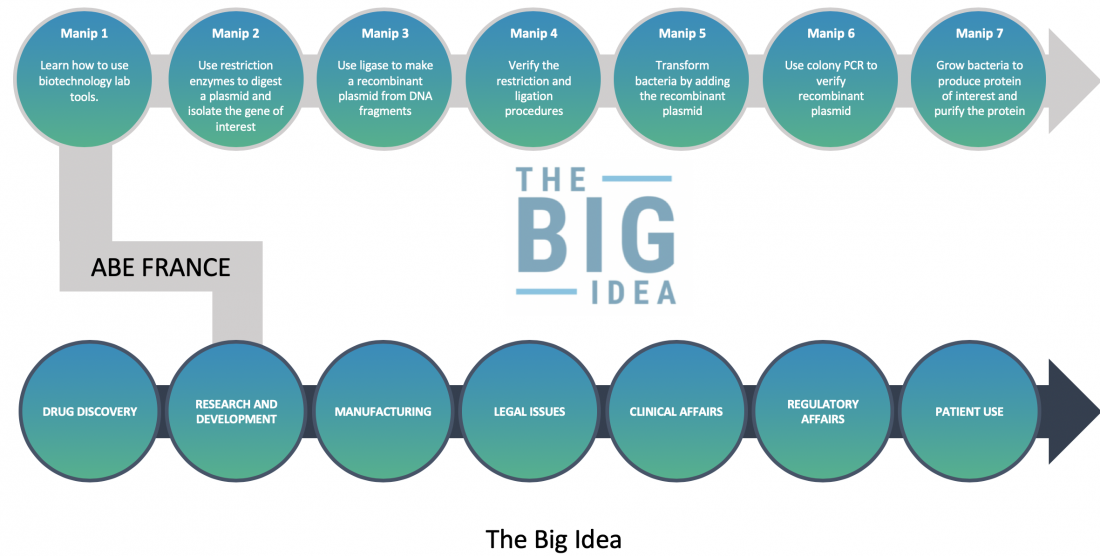 Biotechnology has brought about the discovery and development of a new generation of human therapeutics. Advancements in both cellular and molecular biology have allowed scientists to identify and develop a host of new medicines for patients with serious illness. Biotechnology provides the tools and techniques for modern pharmaceutical research and drug development, and it is critical that future citizens are knowledgeable about this field.
ABE programme, students will use modern biotechnology techniques and tools through genuine experiments, carried out daily in laboratories. They will understand their nature and potentialities, but also, they will discover the pleasure of manipulating, understand that these up-to-date techniques are accessible, and hopefully they may eventually pursue careers in the sciences.