Immersive week of lab experiences for transition year students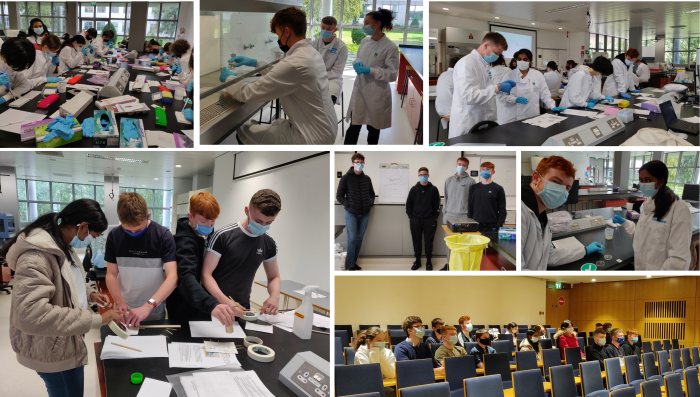 In September 2021 we welcomed 19 transition year students from seven schools in Dublin and North Wicklow to the UCD Conway Institute and Systems Biology Ireland for an immersive week of hands on activities. Fifteen post-graduate and post-doctoral researchers from our two research institutes planned and delivered the week of activities for the students.
The transition year students were trained in basic in lab techniques and lab safety then carried out experiments in growing bacteria, DNA profiling, human tissue staining, DNA isolation and neuroscience. The students also learnt coding, carried out bioinformatics and how computers and coding are used in biological research. The researchers delivered interactive talks on jobs and careers in research and scientists from different sectors including from local biotech company Amgen and NIBRT, the training centre for bioprocessing, spoke to the students.
Transition year students told us:
"I enjoyed hearing about the day in the life of the researchers because it really showed me the college life and how they got to where they are."

"I loved doing science experiments in the lab. Micropipetting because it was new experiment that we have never done before."

"I really enjoyed the micro pippetting and banana experiment. A lot of the lectures were very interesting and the coding workshop was also good."
The transition year placement week from 27th September to 1st October 2021 was one of four activity weeks funded by the SFI Discover programme and the Amgen Biotech Experience. We will take what we learnt from feedback from students and researchers to develop two more work placement weeks in the 2021/22 school year.
This programme was initiated in response to a growing demand from transition year students wishing to spend time in the institutes to explore opportunities in STEM. We are running it in partnership with UCD Access and Lifelong Learning (UCD ALL) to ensure equity of access. UCD ALL has a network of 19 linked DEIS-designated schools in the community surrounding UCD and we will fill the majority of places on our placement weeks with students from those schools.