About ABE Greater Los Angeles Area
The Amgen Biotech Experience is an international education program funded by the Amgen Foundation. Additional funding and support are provided by New England BioLabs, the Orange County Biotechnology Education Partnership, LA/OC Biotech Center, the California Life Sciences/Biotech Initiative, the Foundation for Pierce College, Fullerton College, Pierce College and California State University-Channel Islands.
Our Team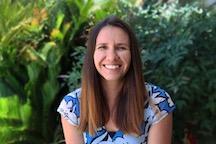 ABE-LA Site Director
Giovanna (aka Gio) Tomat-Kelly works with the ABE-LA team to organize outreach events/ training workshops and improve the quality of service provided to our ABE teachers. 
Prior to joining LA Promise Fund in 2021, Tomat-Kelly worked as an ecological field technician throughout Nevada and Delaware, and a marine biology laboratory technician in Washington. 
Tomat-Kelly received her Bachelor of Science from The College of New Jersey where she majored in biology with a research concentration in ecology. In 2021, she received her Master of Science in Agronomy from University of Florida.  Tomat-Kelly's dissertation focused on how invasive plants and fire interact to affect native plant communities. As a master's student, Tomat-Kelly co-instructed an undergraduate biology course.
Some of her favorite books include: The Invention of Nature, The Ocean at the End of the Lane, and The Toa of Pooh. On her free time, Gio enjoys hiking, camping, and exploring the great outdoors with her friends and family.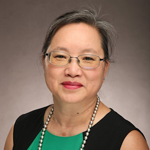 Site Coordinator at Orange County Distribution Center 
Dr. Jo Wu has been a Biology professor at Fullerton College since 1990.  She serves as the director of the OC Biotech Education Partnership and coordinator of science summer camps, and weekend research projects.  Her team of talented instructional assistants ensure that fun, hands-on training occurs at multiple levels for junior high, senior high and college students. Science Summer Camps give opportunities for students to gain lab experience and earn community service hours.  The ABE-FC distribution center relies on Jessica Wu-Woods to prepare reagents and equipment kits for Orange County teachers.

Jo earned a BA in Biology from University of Missouri - Columbia and a Ph.D. in Cell and Developmental Biology from University of California - Irvine.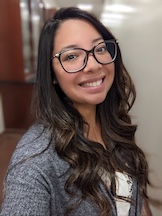 Lab Technician II at Fullerton College
Gladys Rodriguez works with the ABE-Fullerton College distribution center. She is responsible for preparing all reagents and equipment for Orange County teachers. 
Prior to working with ABE, Gladys worked with OC Biotech Education Partnership as an instructional assistant to the science summer camps where she taught lecture and hands-on activities to junior high, high school, and college students, After working in the summer science camp, she began to work for Fullerton College as as a TA/ Biotechnology Tutor and outreach panner and coordinator. 
Currently, Gladys works as the Lab Technician for Fullerton College Natural Science Division in the Biology department where she prepares reagents, conduct equipment maintenance, and writes lab protocols. She services about 15 teachers in the biology department.
Gladys earned a BS in Microbiology from California State University - Long Beach and has earned a Biotechnology Lab Assistant Certificate from the Biotech Program at FC.
Some of Gladys' favorite books include: The Hot Zone and The Demon in the Freezer. On her free time, Gladys enjoys scrapbooking, making pottery, hiking, trying new coffee shops, playing with her fur baby, and traveling with her husband and family.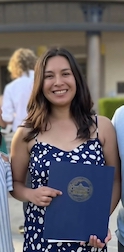 Lab Technician I at Fullerton College
Stephanie Tan works with ABE-Fullerton College distribution center conducting equipment maintenance and preparing reagents and supplies for ABE teachers throughout Orange County. 
Stephanie is an alumni of the Fullerton College Biotech program, having been awarded the Biotechnology Lab Assistant Certificate, Biotechnology Biomanufaturing Technician Certificate, and Biotechnology Laboratory Technician certificate. She has also received the Biotility Biotechnician Assistant Credential. Stephanie also woks as an outreach coordinator for Fullerton College. On her time off, Stephanie enjoys visiting local cultural and historical sites with her children and volunteering with the Girl Scouts and Boy Scouts organizations.
"Everybody can be great because everybody can serve. You don't have to have a college degree to serve. You don't have to make your subject and your verb agree to serve. You only need a heart full of grace, a soul generated by love" -Martin Luther King Jr.

Site Coordinator/ Lab Technician at Mission College Distribution Center 
Dr. Chander Arora is part of the biotech Faculty at Los Angeles Mission College and joined the ABE-LA team as the Site Coordinator in Summer 2021. Holding over two decades of experience in the healthcare industry as well as teaching at the community college in Los Angeles, she was instrumental in getting a biomanufacturing grant from Department of Labor to Los Angeles Valley College. She has contributed tremendously towards women's health working with the World Health Organization, Geneva, on several international projects.
Extremely passionate about helping students, she is known for experience in developing and teaching Biotechnology and Biomanufacturing courses. An NSF ATE Principal Investigator, she has trained the trainers, the new hires as well as the incumbent workers in several pharmaceutical industries. She is also a subject matter expert for developing the state assessment exam for the Bioscience industry. Her lead role in Bridge to Biotech program has benefited about 90% of her students to successfully find jobs in the related fields.
She believes 'Dreams are not what you see during sleep, Dreams actually are, which don't let you sleep'.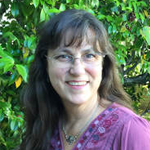 Site Coordinator/ Lead Lab Technician at Pierce College Distribution Center 
Karin Steinhauer worked for many years in the fields of quality control and public health microbiology as well as veterinary medicine. In 2005 after working for Pierce College as the Anatomy/Physiology technician, Karin began working for what was then called the Amgen-Bruce Wallace Biotech Program and has continued on as the Pierce Distribution center coordinator for the ABE program.  Her experience and expertise have led to her concurrent title as a "Master Lab Technician" for the global ABE program.
Site Coordinator/ Lab Technician at Pasadena Bio Collaborative Incubator
Renee Bixby is an ABE-LA liaison that serves as primary contact for teachers and is responsible for daily laboratory operations.  
Prior to joining the ABE-LA team, Bixby worked as a lab technician at the University of Arizona in a microbiology and plant pathology lab. This hands-on experience sparked an interest in biotechnology and education and has become the focus of Renee's career and education goals.
Bixby received her bachelor's degree in Plants Sciences and minored in Sustainable Plant Systems. During her college career, Bixby worked on a Fusarium population study to provide farmers with an efficient and cost-effective tool to detect a plant pathogen that causes severe crop loss and financial burden.
Her favorite book is Mutant message Down Under by Marlo Morgan. It tells an inspiring story of how nature can heal human, when they completely submit themselves to her. Bixby also enjoys anything involving nature, cooking, and gardening. She is proud to be part of an organization that strives to break generational cycles of poverty and promote the success of marginalized children.
"The task we face today is to understand the language of nature." – Paul Stamets
Site Coordinator/ Lab Technician at LA Trade Technical College Distribution Center 
Stacy Zamora is an ABE-LA Staff Liaison that serves as primary contact for teachers and assists in lab formation and upkeep.
Since 2017, Zamora worked as a teaching associate at CSUDH– teaching over 20 Biology classes in the span of 4 years. Previously, Zamora was a healthcare worker specializing in mental health services serving underrepresented communities in Lynwood, CA.
Zamora received my Bachelor of Science from CSUF in 2017 – majoring in Biological Sciences with an emphasis in Marine Biology and a minor in Gerontology. She is currently in the last semester of my Master of Science program at CSUDH, majoring in Biology with her main focus being neuroscience. Zamora is a member of the Society for Advancement of Chicanos/Hispanics and Native Americans in Science (SACNAS) and have presented and attended at their conferences.
Her favorite books are Catch-22 by Joseph Heller, The Tale of the Dueling Neurosurgeons by Sam Kean, and The Immortal Life of Henrietta Lacks by Rebecca Skloot.  When she isn't reading, Zamora enjoys hiking, and spending time with her mom.
"Education is the most powerful weapon which you can use to change the world". – Nelson Mandela

Site Coordinator/ Lab Technician at Channel Islands 
Luz Hernandez is an ABE-LA liaison that serves as the primary contact for teachers and is responsible for daily lab operations.
Prior to joining the ABE-LA team, Hernandez worked as a biology Lab Technician at Caltech and has 4 years combined experience in S.T.E.A.M informal education with an emphasis in wildlife biology.
Hernandez received her Bachelors of Science from California State Polytechnic University, Pomona where she majored in Environmental Biology with a Zoology minor. Hernandez is a member of the Ecological Society of America, and organization of science professionals dedicated to advancing public awareness of the importance of ecological sciences.
Her favorite books include: The Demon-Haunted World: Science as a Candle in the Dark by Carl Sagan, The Overstory by Richard Powers, and IN the Shadow of Man by Jane Goodall. Her hobbies include nature-journaling, insect collecting, and spending quality time with family and friends.
"Somewhere, something incredible is waiting to be known"- Carl Sagan